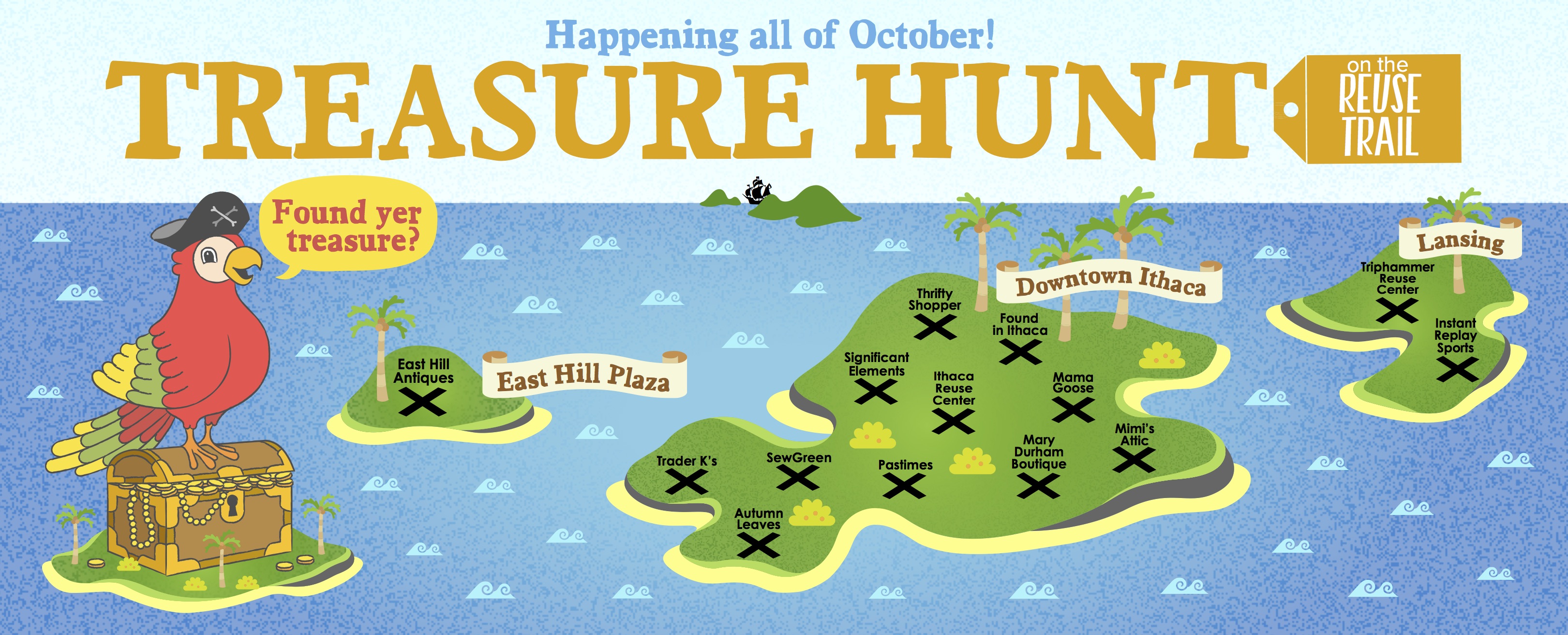 Landlubbers, the 2017 Treasure Hunt has already set sail. Keep yer eyes open for another chance to git some treasure in October, 2018.
Read on for information on the October 2017 Treasure Hunt...
***
Ahoy, mateys! Welcome to the Treasure Hunt on the Reuse Trail!
Complete the hunt and enter to win $40-$200 in prizes, and get 10% off a one-time purchase in each participating store.
Pick up yer Game Card in any participating store. Then--shiver me timbers--pick yer adventure to complete during the month of October. Are ye content with a smatter o' silver, or will ye go fer the gold?
1. Dip Yer Toe
Drop yer anchor at

three stores

during the month of October and get yer Game Card stamped at each store.
Place yer stamped card in the treasure box at any of the 14 participating stores to be entered to win

one of four

$40 reuse store gift cards.
2. Walk the Plank
Travel the Reuse Trail to

answer the 14 clues

. The parrot in each store will let ye know yer close to the answer!
Avast! Ye must

get stamps from at least 10 stores

as ye find clues for the puzzle. Ye can work with friends to find the remaining answers, or follow Get Your GreenBack Tompkins on Facebook for hints and answers throughout the month.
Place yer completed Card in a treasure box at any participating store. Completed cards will be entered to win $200, $120, and $80 in gift cards at reuse stores! If ye forget yer name and contact information, ye will be left to dry, landlubbers!
Bonus Loot: Complete the

bonus word scramble

to be eligible for a custom crossword puzzle by pirate Adam Perl of Pastimes, maker of crosswords for the New York Times--a $100 value!
Note: A store can stamp both sides of the card, if you like.
Participating Stores 2017
Hoist yer sails, mateys, and get yer treasure!
Co-sponsored by Cornell Thrift, Downtown Ithaca Alliance, Local First Ithaca, and the Sustainability Center--a finer crew no pirate has ever seen.
This program was made possible in part by a grant from the Tompkins County Tourism Program. Other contributors include: The Sustainability Center, Tompkins County Recycling, the Park Foundation, and Reuse Stores.
Prizes
The prizes are pools of gift cards from different participating stores which will be assigned randomly. Blackbeard tolerates no meddling or pickiness.
Raffle
We will draw the winning cards on Saturday, November 4th at 3:30pm at a final celebration of the Treasure Hunt with both reuse store owners and game participants at the Argos Inn, a veritable pirate's palace. This event will include music, refreshments, and a celebration of all things reuse! If the winners are present at the event, they can receive the gift cards right after their names are drawn. Otherwise, winners will be notified via email that they've won and the gift cards can be picked up at CCE Tompkins, 615 Willow Avenue, Ithaca, NY. All prizes must be collected by December 1st.
Rules for participation
One Game Card entry per person. Game Cards submitted without an email address or phone and full name will not be counted for the raffle. The 10% off discount applies to a one-time purchase in each store, not to be combined with other coupons or discounts. If winners are not present at the raffle, they will be notified via email or phone that they've won, and will have 30 days to pick up their gift cards from CCE-Tompkins at 615 Willow Avenue in Ithaca, NY.